Kofe Samoa
Once you've ordered and paid for your coffee or meal and had it delivered to your table, have you thought about the steps taken to get it there? Behind many of C1 Espresso's products is a bigger story. It begins in Samoa, nine years ago.
In 2009, C1 Espresso entered into a partnership with Women in Business Development (WIBDI), a non-government organisation which aims to empower vulnerable Samoan families to generate income in a sustainable and self-reliant manner.
We began with a plan to start a coffee planting programme in Samoa and serve Samoan espresso in C1. Membership in the programme would guarantee each family a long-term income. It was a great plan on paper, and we flew to Samoa to get it happening. But the internet was relatively new and our research hadn't been the best. It turned out there were no coffee plantations in Samoa.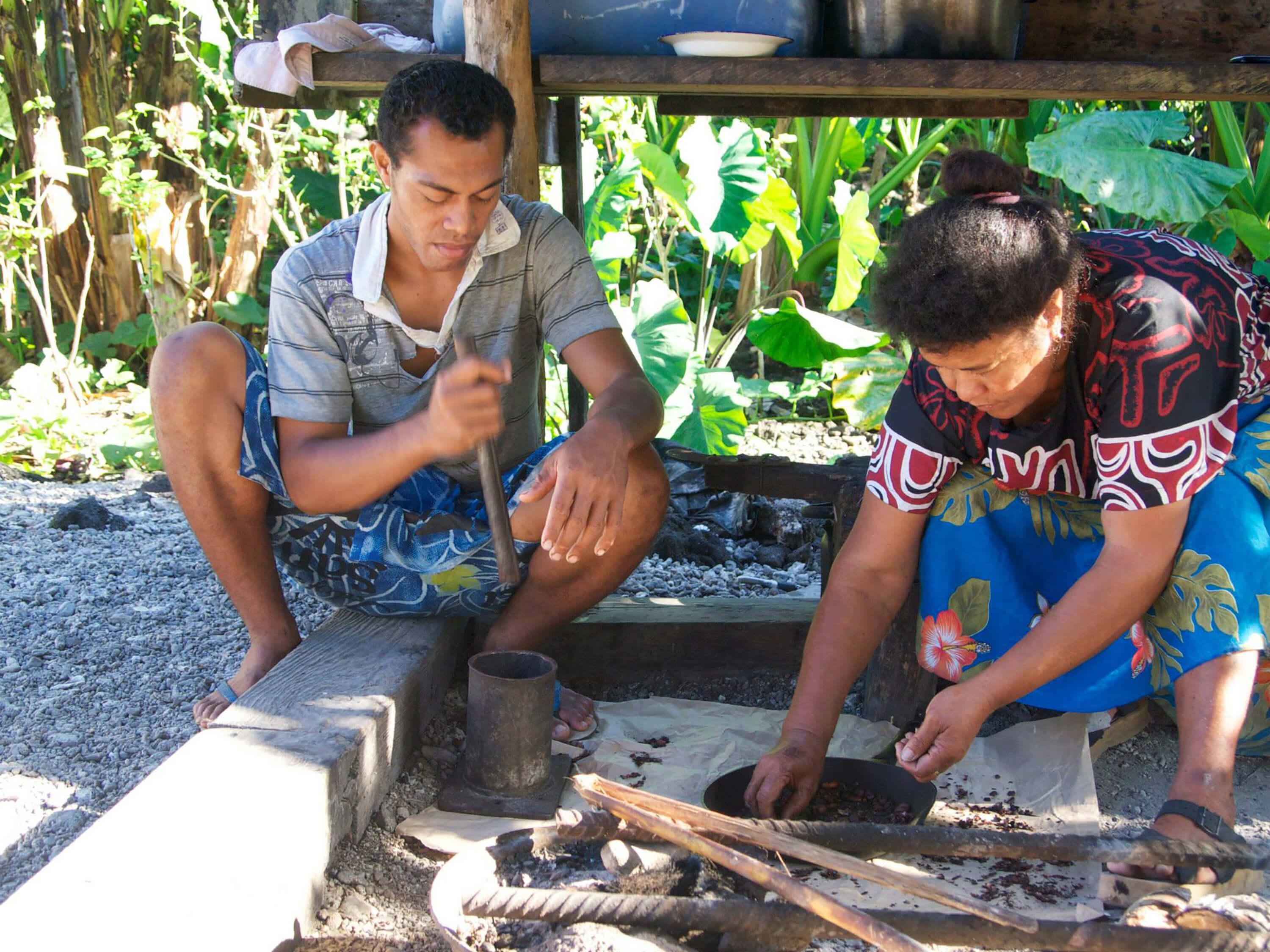 Not to be discouraged, we went around the island, telling the families we hoped to work with about our great idea. But, they said they were already growing their own crops. We learned that these families depended on what they grew in their backyard - crops like bananas, taro, coconut, yams and breadfruit - to survive. We also learned that they had a great community spirit, with each person part of a close-knit extended family, which was part of a wider village community. Family and community members looked out for and supported one another through tough times.
We realised that if these families were looking after coffee for us, they wouldn't be looking after their taro and breadfruit, and they wouldn't be as free to support members of their family and their community. They would have to rely on profit from this new business to buy food, when they could have easily been growing the food themselves. And if that money stopped coming in for whatever reason, they would be in trouble.
So we asked more questions. We found out about the different crops the families were growing: cinnamon, lemongrass, chilli, ginger, coconut, mango, pineapple and vanilla to name a few. We were excited by the variety of flavours we saw. Here were the literal seeds for a new, sustainable business. And so the Golden Panther Tea Company was born.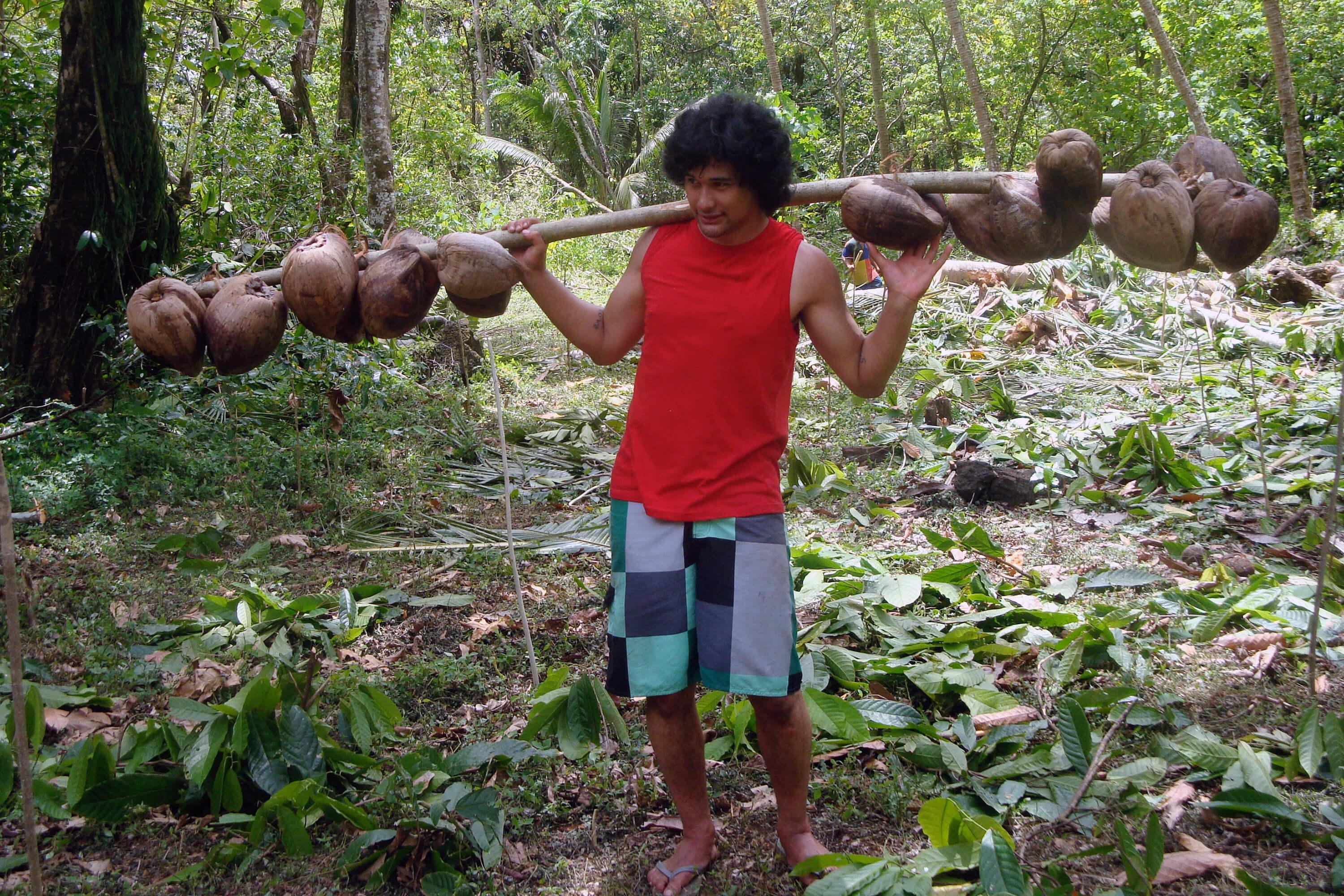 You can see our range of forty Golden Panther Teas in the brightly coloured boxes neatly shelved behind the espresso machine at C1 Espresso. Many of them are made with Samoan ingredients.
Bananas are one of the most common crops in Samoa. All over the islands, bananas hang down from trees in chandelier-like bunches. Banana trees grow easily and rapidly in the Samoan climate, with a new banana tree ready to produce fruit within the year.
Along with other common fruits, like mangos and guavas, they are often eaten fresh for breakfast, or as a snack. Nothing special to the average Samoan - but when we tried them we were amazed by the taste. Since banana and other fruit trees were easy to grow, we and WIBDI saw another opportunity to expand our planting programme. We just needed to find a way to preserve that freshness. Juice, maybe - but we'd never heard of banana juice.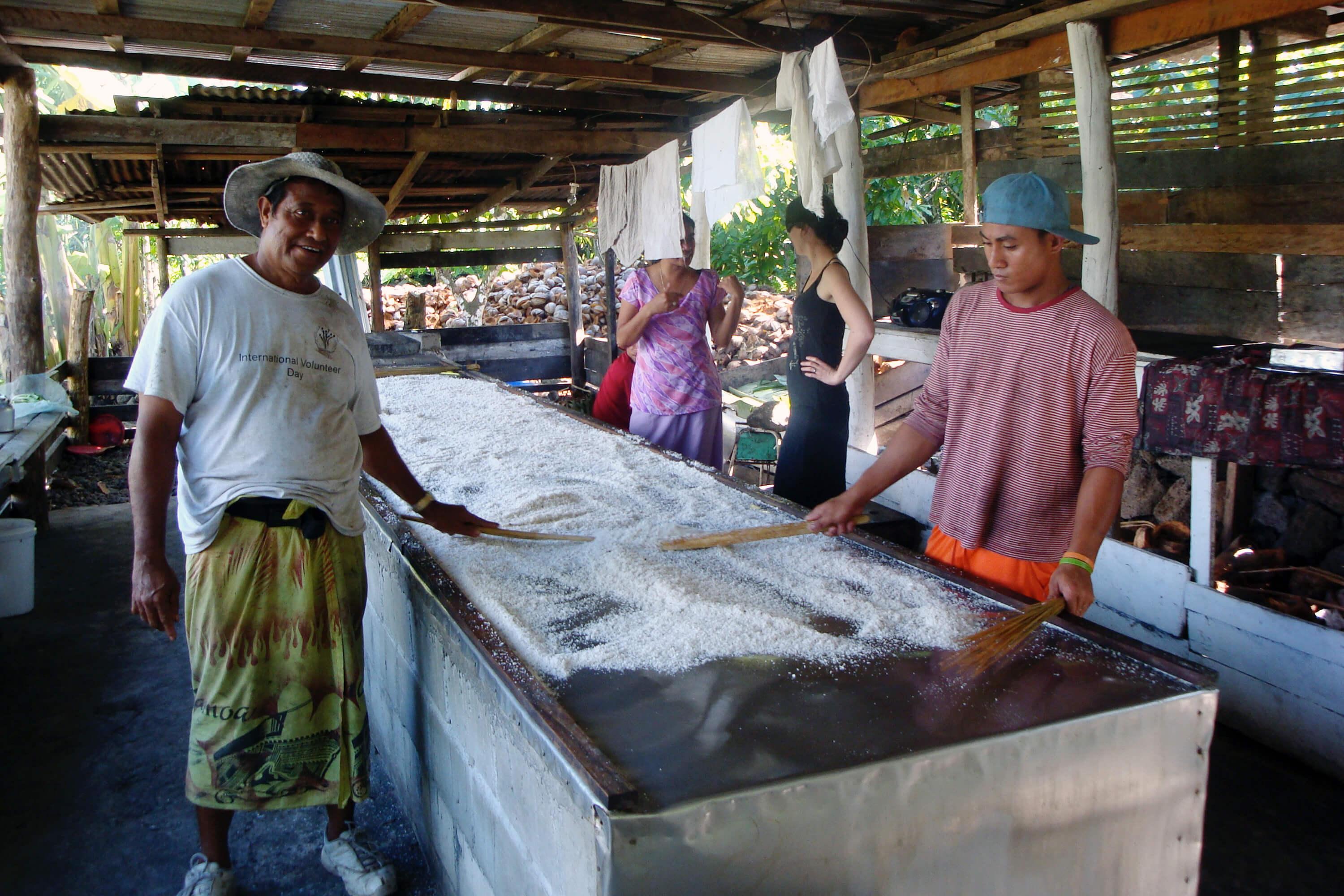 So, with the help of some clever friends, we came up with some new machinery. In the same way an olive press works, our machine can press fresh bananas into a smoothie-like drink. We now use this same process to make our range of OK! Nectars. Our OK! Banana, Guava, Mango and Spirulina nectars are all soon to be made with ingredients grown by Samoan families. At the moment they are processed and bottled in Christchurch, but ultimately we aim for families taking part in the programme to process the nectars themselves, giving them a much bigger share of the profit.
Over seven years, our planting programme has become more expansive than we'd imagined. Each family taking part in the programme can choose to grow ingredients for Golden Panther teas, OK! Nectars, and two other upcoming C1 products. The first, Kofe Samoa, is the end result of our original coffee-planting programme, which we've continued on a smaller, sustainable scale. The second is Koko Samoa. Koko is the national drink of Samoa: a hot sweet drink similar to hot chocolate, which we are looking forward to bringing to a New Zealand audience. The vulnerable families participating in our programme are now earning a sustained income, are empowered to support themselves without relying on financial aid, and are also increasingly able to support their extended family and community.
We're overjoyed to see the families we work with moving forward. In many cases, prior to joining the programme, the families lived in debilitating poverty, a situation worsened by recent natural disasters. Since the cataclysmic 2009 tsunami, two extreme cyclones and several smaller ones have further devastated the islands. The country is still recovering from Cyclone Evan, which hit in 2012. We're happy to see the amazing progress Samoa has made since then, and the positive effects our programme is having on families involved.
But Samoa remains highly vulnerable to more cyclones. The danger is only increasing as climate change worsens.
Many Samoan villages are built around traditional houses called fale's, which are where pillars are used in place of walls to hold up the roof. This open-air, style of living is an adaptation to a hot, humid climate, but it also means vulnerability to the elements. Some families can afford to reinforce their homes against destructive weather events, while others can't.
In 2011, the earthquake caused irreparable damage to our city. We were personally affected, and the old C1 Espresso was destroyed. We understand the trauma of destruction and its aftermath, and the residual feelings of precariousness and danger. Our shared experiences with the families we work with has strengthened our business relationship into a friendship with a history of mutual understanding.
If we can't avoid loss, how do we act now to build resilience? That is the question that underlies our goals for this programme.
Which is why we've taken several years to plan a business model we can be sure of. We started the Golden Panther Tea Company and OK! Nectars a few years ago, beginning by using New Zealand ingredients. The plan was to create a market and how it would match up with what the families on our programme can supply. Now we're able to state with certainty exactly what we need.
This means that entering into a partnership with C1 Espresso and Women in Business Development will guarantee each family an income which will sustain them for as long as they remain involved in the programme - that is, indefinitely. We want to see every family we work with become more resilient and better prepared for whatever comes their way.
Seven years after our impulsive first visit, we have learned more, and developed a stronger relationship with the families growing produce that we can use in our teas and OK! Nectars than we'd ever imagined. So we wanted to share our story. It's finishing with you. We hope that when you try these products, from our OK! Nectars, to our Golden Panther Teas, or our upcoming Koko Samoa, you enjoy them all the more because of the amazing journey they've taken to get to your table.